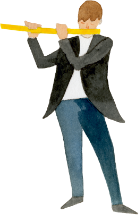 Concert Hall
Music Heaven - spotlight on you!
This is a one-day-only dream stage where you can perform on the same stage where the world's masters have stood. From children to adults, today you are the star of the show! The applause from the audience will be your own!
Admission free, no registration, entrance and exit during the show are permitted.
*Application for performers has been closed.